For the 75th anniversary of the Radio City Music Hall Rockettes' Christmas show, Enlighted provided custom strings of flashing LEDs for an upgraded version of their lighted antler hats.
sample hat with enhanced LED lighting, in moderate and dim ambient lighting
animated view here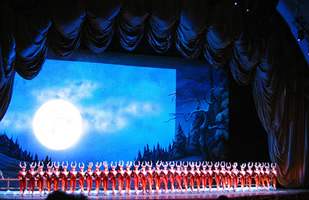 the lighted antlers, on stage
individual light strands, prior to installation in the antlers (sample animation)
that's a lot of lights! sample video clip of animation here
views of the original antlers in bright and dim light
---
how to order
These lighted antlers were custom-made specifically for the Rockettes - we are not able to produce replicas, and we do not have a source for the base portion of the antlers (we only built the electronics).
If you want something like this for yourself, and can provide a hat with antlers, we can create a similar lighting effect as a custom order. Pricing would depend on the number of lights and the type of blinking pattern. Please see our custom orders page, or contact us for more information.
---