We've created lighted belts to match all kinds of outfits. See the links below for more information.
---
black belt with pink, gold, and green LEDs
This belt was custom made for a client. Pink, gold, and lime green LEDs are mounted in the fabric at regular intervals all the way around the belt. A second layer of fabric was added to conceal the wiring, and a small pocket holds the battery and on/off switch near the buckle.
---
black belt with EL wire sine wave pattern
five colors of EL wire are sewn together in a sine wave shape, and animated in sequence
this design was part of a matching bra and belt set - video clip of the actual animation
---
silver belt with rainbow lights
These lighted belts are covered with white/silver hologram spandex and rainbow colored LED lights (10 LEDs per belt). In the photos below, two copies of the same belt are being worn in a crisscross style. This belt was part of an entire outfit (including a matching lighted bra), and was featured on Ripley's Believe it or Not!
---
purple sequined belt with LEDs
These belts, with 10 lights each, were created to match the purple sequined bra and purple pants with lighted ankles. They have appeared in several fashion shows, including Cyberfashion at SIGGRAPH 2004 and the "Gathering Light" show in 2005.
---
gold sequined belt with red lights
These belts were also built as a pair, designed to be worn crisscross style, low on the hips. A chain-link gold leather belt was covered with a string of miniature LEDs and a strip of gold sequins that conceals the wiring. These were part of a costume that also included a red feather lighted bra.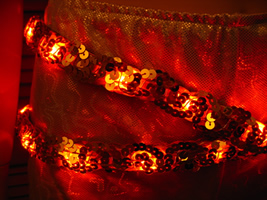 ---
blue and green sequined belt with 30 blue and green LEDs
This lighted belt (designed to match a lighted bra) has three wide sequin stripes with matching green, turquoise, and blue LEDs. There are 10 lights per stripe, or 30 lights total.
---
how to order
We do not carry belts in stock, but they can be custom-made in your choice of color, style, and size, or as part of a matching set. Please see our custom orders page for pricing guidelines, or contact us for more information.
---