This suit jacket is decorated with several hundred blue and green LEDs, arranged in a grid pattern that is aligned with the stripes in the fabric. The lights are animated with a variety of user-selectable patterns, including a downward moving sequence, a slow fade between blue and green, and fast random flashing.
front and back views in dim lighting
front and back view in brighter lighting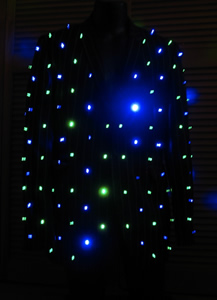 Sample video clips: pattern1, pattern2, pattern3 (fast)
---
how to order
Lighted suit jackets are made as custom orders, in your choice of size, color, and light arrangement. Other examples of lighted suits with LEDs can be seen on this page.
Please see our custom orders page for pricing guidelines, or contact us for more information.
---