scrolling messages with block lettering
Scrolling messages were created using a "block lettering" method, where each character is displayed on a rectangular 5x7 dot matrix array of LEDs.

In the sample shown here, eight character blocks have been attached to the front half of a knit cap.
The control circuit and power supply are hidden in the back portion of the knit hat cuff. A single 9V battery powers this hat for about 6 hours. The scrolling message boards display text messages and graphical patterns, such as the zig-zag designs shown below.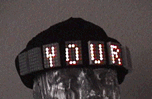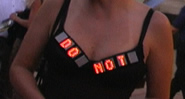 Quicktime movies of scrolling message animation: clip 1 (240x180, 824 KB), clip 2 (larger version of same footage, 320x240 pixels, 2.6 MB)
---
how to order
Although we have created a variety of scrolling message designs in the past, in this style and with hand-wired LEDs and flex circuits, we have discontinued these products to focus our attention on other methods for displaying logos and text, such as embroidered fabric-based displays.
Please see our custom logos page for more information about other methods for creating lighted text.
---