suit jacket with 500 blue lights
This men's suit jacket is decorated with over 500 blue LEDs arranged in predominantly vertical columns on the front, back, sleeves, and collar. The spacing between lights is approximately 1 inch (2.5 cm) throughout the design.
Each column is animated with a downward sequential fading pattern, with slight differences in speed between adjacent columns of lights to add a degree of randomness. This allowed us to use relatively simple sequencers to achieve the appearance of highly complex behavior.
front, side, and back views in dim lighting.
the animated .gif file on the left presents an approximation of the light pattern -
please see the video clips below for the actual sequence
front and back views in moderate lighting
additional views of the front and lapels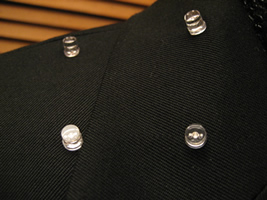 This project pushes the limits of the number of LEDs that can be reasonably mounted within a suit jacket, yet it runs for many hours on the same pack of AA batteries.
It was used as a featured prop in a television commercial - watch the video on our youtube channel:
---
Movie files with sample animation: (will open in a new window)
Front view: Pattern 1 (medium), pattern 2 (slower), pattern 3 (faster)
Back view: Pattern 1 (medium speed)
---
how to order
We do not carry coats like this in stock, but we can add lights to all kinds of suit jackets, as shown by the examples on this page and in other parts of our online gallery. If you're interested in having something similar made for you, please see our custom orders page for pricing guidelines, or contact us for more information.
---