lighted bras with a single row of sequins and LEDs
go to main bras page
---
sequined bra with row of 10 LEDs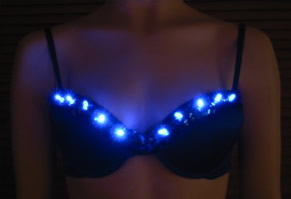 These high-quality bras have a contoured foam cup and a stripe of color-coordinated sequins with super-bright LEDs across the top, in a pleasant cleavage-enhancing design. The lights sway back and forth, and pulse on and off, in a variety of patterns.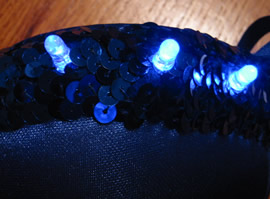 Bright and dark views are shown below for some examples of possible color combinations:
---
Where do you wear something like this? Well, these
Enlighted
bras were a fabulous hit at the White Party! (in Miami Beach, Florida, November 2004)
---
how to order
We are no longer offering these as "ready made" pieces, but we can create similar bras as custom orders, in your choice of size, light layout, or color combination.
Please see our custom orders pages for more information about custom designs.
---