---
black flame bra with red and gold lights
This bra is HOT, and will definitely add some sizzle to your nightlife!
The flickering lights may make it look like you're on fire, but don't worry, you won't get burned. The secret lies in the 30 red and gold super-bright LEDs that are embedded within the red flame-shaped appliques on the front of the bra.
This bra pairs up nicely with our other flickering flame wear, including pants, jackets, and full suits with flames.
---
halter-style bra top with flames
This top has a similar flame design with red and gold LEDs, but additional fabric has been added over the front of the bra, partly covering the midriff. The straps have been converted to the around-the-neck halter style that is shown.
Another version of this halter/bra flame top was made with blue and purple lights, as shown here.
Quicktime videos with sample animation: red_clip (3.1 MB), blue_clip (4 MB)
---
black bra with blue and white lights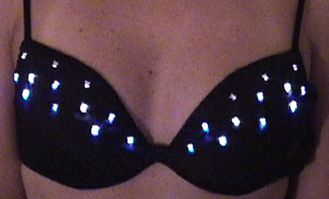 This black bra has 24 blue and white lights, scattered across the top edge, that flicker in a random flame-like pattern.
The bra was designed as part of a set with matching wristbands (with 5 lights each) and pants (with 10 lights at each ankle).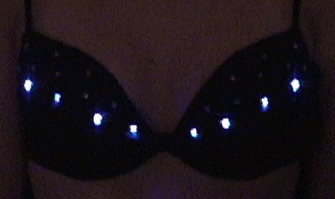 ---
how to order
The bras shown on this page are examples of previous custom orders. We can make replicas of these designs, and will also create new designs by request, if you'd like a particular light layout or color combination.
Pricing and availability are subject to change, please see our custom orders page for more information.
---