Enlighted was commissioned to create lighting for a set of jumpsuits for the band. The front of each suit is decorated with a large illuminated letter, so that the whole set spells "C A R I M I". Red and blue LEDs were also mounted on the arms, legs, and collar of each suit.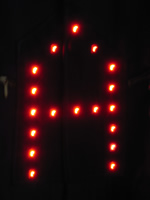 ---
how to order
Obviously, we don't already have your own personal name in stock, but we can create something similar to this project with your name or logo.
We offer all kinds of flashy clothes that will enhance your stage presence. Please check our orders page, or contact us for more information!
---