These lighted sweatshirts were commissioned as a gift for employees of the Color Kinetics corporation. Custom embroidery was used to create a sheer fabric panel over the lighted region, based on a digital scan of the logo. The non-lighted text was also created with custom embroidery.
The logo is visible as a white region when the internal lighting is not activated. When the sweatshirt is turned on, a slowly-changing blend of rainbow colors is produced.
two views of the logo as the color changes, video clip with sample color-changing animation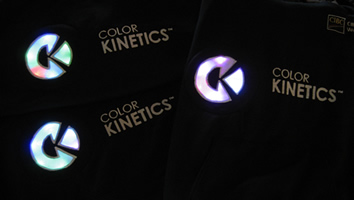 using our custom digital embroidery services,
we can produce multiple identical copies of the same design
---
how to order
Whether you're selling a commercial product or seeking a new form of self-promotion, lighted clothing is a fun and fashionable way to increase the visibility of your brand, slogan, or cause. We offer a variety of methods for illuminating your name or logo, as shown on this page.
---