daft punk

---

Alive 2007 Tour

June - December 2007

If you haven't already heard the rave reviews for this show, French electronic music duo Daft Punk toured the world in 2007 with their giant flashing pyramid and signature robot costumes.

Guy Manuel de Homem-Christo and Thomas Bangalter are widely known for their stunning audiovisual performances, so we were thrilled to have the opportunity to contribute some Enlighted artistry to the experience.

UPDATE: Please see this page for info about Daft Punk's appearance with Kanye West at the 2008 Grammy Awards.
We installed several hundred feet of red EL wire on each leather jacket, following the seam lines and key styling details. The Daft Punk logo on the back of each jacket (originally written with metal studs) was re-created with about 300 red LEDs. For the lighted helmets, we attached EL wire to matte black replicas of the metallic helmets that are worn for the earlier part of the show.
closer views of the shoulders, front, and elbow
The set was similar to their groundbreaking show at the 2006 Coachella Music Festival, with various lighting components being revealed gradually, in order of increasing complexity. When they decided to add an encore for the 2007 tour, the band came up with the idea of lighting themselves up, as well.
The suits remain dark until about halfway through the 10 minute encore (at 5:26, to be exact), when a pulsing red light winds its way through the stage lighting, like hot lava flowing through a pipe. At the climax of this dramatic sequence, the light bursts upward and the costumes are illuminated, leaving the audience wondering if they have arrived from another dimension, or if the image is some kind of holographic projection.
Here's a video clip of the "reveal":
This moment has received high praise from all kinds of critics, journalists, bloggers, and fans, with comments ranging from "best part of the show" and "best live musical performance of 2007", to "the most amazing thing I have ever seen in my life." If you were fortunate enough to see the show live, you might understand the source of this enthusiasm!
In the following video, taken at the end of the show, the robots take a final bow and turn around so that the Daft Punk logos are visible on the backs of their jackets.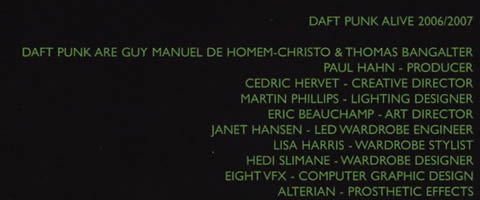 ---
For more information, please see one of the band's official sites,
http://myspace.com/daftpunk
http://daftpunk.com/
Tour dates:
ALIVE 2007- EUROPE
JUN 10 LOCH NESS - Rockness - Scotland
JUN 14 PARIS Bercy - France
JUN 16 LONDON - 02 Wireless - England
JUN 17 LEEDS - 02 Wireless - England
JUN 23 ISTANBUL - Kuruçesme Arena - Turkey
JUN 26 ARENES DE NIMES - France
JUN 29 DUSSELDORF - Philipshalle - Germany
JUN 30 BERLIN - Velodrom - Germany
JUL 04 AMSTERDAM - 5 days off @ Heineken Music Hall - Netherlands
JUL 06 ESCH - Red rock festival
JUL 08 DUBLIN - Oxegen Festival
JUL 12 TORINO -Traffic festival (free entrance/entree gratuite) - Italy
ALIVE 2007- US & CANADA
JUL 21 LOS ANGELES Sports Arena
JUL 27 BERKELEY Greek Theatre
JUL 29 SEATTLE, WA - WAMU Theater
JUL 31 DENVER, CO - Red Rocks
AUG 03 CHICAGO, IL - LOLLAPALOOZA
AUG 05 TORONTO, Ontario - Arrow Hall
AUG 07 MONTREAL, Quebec - Bell Centre
AUG 09 NEW YORK, NY - Keyspan Park
OCT 27 LAS VEGAS, NV - Vegoose Music Festival
ALIVE 2007- MEXICO
OCT 31 MEXICO CITY
NOV 2 MONTERREY
NOV 4 GUADALAJARA
ALIVE 2007- JAPAN
DEC 6 KOBE
DEC 8 TOKYO
DEC 9 TOKYO
ALIVE 2007- AUSTRALIA
DEC 13 MELBOURNE
DEC 14 MELBOURNE
DEC 16 PERTH
DEC 20 BRISBANE
DEC 22 SYDNEY

---
These suits were custom made for the Daft Punk tour and WE WILL NOT MAKE OR SELL REPLICAS OF ANY PART OF THEM. Please don't ask for a suit with the "minimum amount of changes", we aren't interested in accepting orders where the intention is to impersonate the band.
While we recognize that imitation is often intended as a form of flattery, perhaps in this case it would be more appropriate to imitate their creativity, and be inspired to create a completely new design for yourself.
If you're interested in trying your own style of lighted clothing, with an original custom design, please see our custom orders page, or contact us for more information about lighted costumes for musicians and other performers.
---