This page documents some examples of EL wire logos and text that we've installed in past projects.
---
EL wire block letters on jeans
This can be a simple way to add large lighted text on a pair of pants, especially if the pants are relatively loose and the wire will not be forced to flex repeatedly at the knees. We would not recommend this kind of installation on a pair of tight pants, and the wire should not be placed in areas will it will be crushed when you sit down.
---
EL wire logo on ranger's vest
This kind of lighting can be useful for people who may need to be identifiable in a dark environment. This logo, made with yellow EL wire, is mounted in the center upper back of a vest, where it will not need to flex much.
The design was created with one continuous piece of wire. Note that the sharp points at the feet and the neck are achieved by passing the wire through holes in the fabric.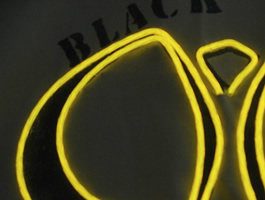 ---
EL logo for aquaman
This piece was created for a superhero who rides a jet ski at night. We used a special type of water-resistant EL wire to make the electronics less vulnerable to splashes.
---
EL wire text on hotpants
This group, the "Rhyme Cartel", wanted to display their name in lights on the back of a pair of hotpants. This was achieved with EL wire by creating a non-stretchy panel that could suport the wire. It was also important to place the wire in an area where it wouldn't be crushed by sitting (though you probably wouldn't want to lean back while wearing these).
---
script "P" logo
For this project, EL wire was applied to an existing screenprinted design on the back of a jacket. The dominant lines are made with standard thickness (2.5 mm) EL wire, and the finer details are made with 1.2 mm diameter EL wire.
---
lighted hemp logo
EL wire designs on fur tend to work best on shorter furs, and/or lighter fabric colors.
---
happy boy pat logo
Green EL wire was used to create block letters and a simple logo on this stylish silk smoking jacket.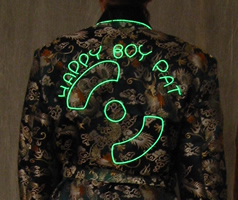 ---
EL text on casual jacket
The block letters on this jacket are outlined with standard thickness lime green EL wire. The small "PARISH" text is made with thinner wire (also known as angel hair).
---
western shirt with EL trim, JJJ monogram
---
---
other examples of EL script text
This three-color design uses multiple strands of EL wire (pink, purple, and blue), which are animated in sequence to make it appear that the color of the wire is changing.
This shirt was made for a fan of Shania, who was planning to wear it to a concert, in hopes of getting her attention.
---
how to order
We can use EL wire to create many styles of logos and text on your clothing. Please see our custom logos page for more information about pricing.
---