---
"gathering light" fashion show

---

Galerie D'Art International

Solana Beach, CA

November 11, 2005
6-10pm
Enlighted exhibited a variety of lighted clothing pieces on live models at the Galerie D'Art International, as the "Second Grand Opening" of a group art show at the gallery, entitled "Gathering Light".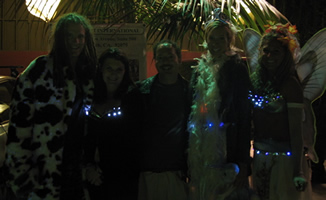 ---
The show also featured lighted sculptures by artists including Janet Hansen (of Enlighted), William Leslie, Deanne Sabeck, Jo-El Heathcote, Valentyna Royenko, Annie Lemoux, and Patricia Geary.
On November 11, 2005, from 6-10pm, the gallery offered an 11/11-themed gathering with two special performances:
"The Magic of Art, Light, and Color" by Jo-El Heathcote, with lasers, color projectors, shadow art, kinetic light art, and light sculptures
~and~
"Illuminated Fashion Exhibition" by Janet Hansen of Enlighted
(suggested attire: wear white, and dance in the light)
---
Please see the gallery's website for more information: http://galerieartint.com/
Images and notes from our previous fashion show at the same gallery can be seen on this page.
---
Galerie D'Art International is located at 320 South Cedros Ave, Suite 500, in Solana Beach CA 92075. Tel 858.793.0316.
---