---
In August 2010, we were commissioned to create lighted clothing for 50 Cent and his G-Unit crew, for their appearances in the historic Home and Home Tour, co-headlined by Jay-Z and Eminem. Two shows were performed in Detroit, Michigan (September 2 and 3), and two shows were performed in Yankee Stadium in New York (September 13 and 14).
We designed and installed custom lighting for several dozen pieces of clothing, including jackets, vests, shirts, and pants, and for accessories such as hats, sunglasses, and a backpack. The styles followed a few themes, as described below.
---
leather LV jacket with white LEDs
---
camo print jacket and pants with EL wire
You really need to see this in person to appreciate the full effect, but this was one of everyone's favorite outifts. Starting with a "normal" set of camo print jacket and pants, we added multi-color sections of EL wire, roughly following the classic shapes printed on the fabric. (Adding EL wire outlines to each individual shape would have made the garment too stiff).
---
Gucci vest, jackets, etc with EL wire
If you want to give your designer clothing that something "extra", to make it look even more expensive, here's one approach we can help with:
---
white bucket hat with aqua EL wire trim, black bucket hat with violet EL wire trim
---
---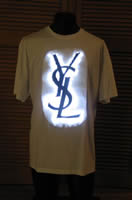 ---
other military-themed coats and vests with EL wire
---
---
---
how to order
We offer all kinds of flashy clothes, props, and accessories that will enhance your stage presence. Please see our custom orders page for pricing guidelines, or contact us for more information.
---