Flyerman has returned to reveal his increased power, intensity, and brightness! He wore this light-up creation to the premiere parties at the CineVegas Film Festival, in June 2002. More photos are available on our events pages.
More information about his other suits can be found on the main Flyerman page.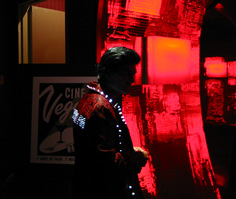 This red and black suit jacket and matching black pants are decorated with about 200 super-bright white lights. As before, his name is displayed prominently on the back of the jacket. Marquee-style lights outline the lapel, the front of the jacket, and the legs of the pants.
---
how to order
Do you know someone who could use an "ultimate" light-up suit? This is the place to get one, made to your specifications. Check out our custom orders page, and contact us for a quote today!
---