original flyerman suit, 1999
The original Flyerman suit is a black PVC vinyl tuxedo jacket and pants, with over 200 super-bright white LEDs. Animated lights decorate the lapels, front pockets, and sides of the pants, and the name "FLYERMAN" is written on the back of the jacket. More information about his other suits can be found on this page.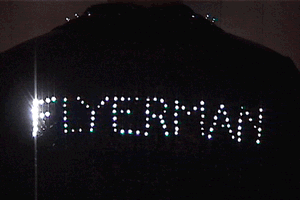 Flyerman meets the designer, Janet Hansen
In the summer of 1999, we were commissioned to create the ultimate Flyerman suit for use in "Flyerman," a documentary film about the extraordinary life and times of Mark Vistorino, the man behind the flyers.
The suit is featured prominently in the film, including the opening credits, and scenes where Flyerman runs amok in Las Vegas and Los Angeles. In June of 2002, we returned to Las Vegas for an in-progress screening at the CineVegas Film Festival. Then, in September 2003, the film made its debut at the Toronto International Film Festival.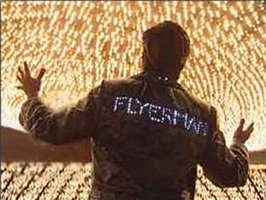 ---
how to order
Do you know someone who could use an "ultimate" light-up suit? This is the place to get one, made to your specifications. Check out our custom orders page, and contact us for a quote today.
---