lighted faux fur coats, etc
We've added lights to all kinds of faux fur coats, hats, scarves, legwarmers, and other types of clothing. LEDs are especially recommended for this type of installation- they can be embedded in the collar, cuffs, along the hem, or throughout the garment, causing the fur to glow nicely. Select any thumbnail image to jump ahead:

---
deluxe lighted color changing faux fur coat
Check out our latest faux fur creation, with over 400 color-changing RGB lights embedded in the spots of this black and white polka-dotted coat. More info on this page.
---
lighted color changing hat and scarf - more info here
Using the same polka-dotted fabric, but fewer LEDs, we've created similar color changing effects in faux fur hats and scarves.
---
LEDs in polka-dotted fur: 'target vest'
In these designs, we've combined our love of geometric designs, bright colors, and flashing lights. This red and white vest made its debut at the 2005 SIGGRAPH Cyberfashion Show.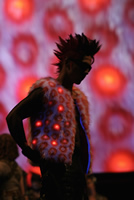 Karl Lang photo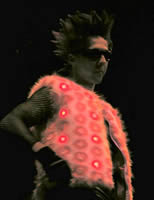 Alex Kawas photo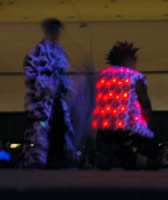 Jordan Schilling photo
The red and white version has about 125 red LEDs arranged in a grid aligned with the printed fur pattern, and about 50 more LEDs in the matching legwarmers.
Video clip showing LED animation in the vest and legwarmers: sample 1
---
pink polka-dotted vest with LEDs
Animated clips of the pink fuzzy vest: front (pattern 1), (pattern 2), back (pattern 1), (pattern 2)
---
faux fur pimp coats with LEDs
Here are some examples of coats decorated with LEDs (no fiber optics involved - the light is diffused by the fur itself). As shown below, we can also make matching lighted pimp hats.
white faux fur coat with about 25 white LEDs, and matching hat with 10 LEDs
---
examples of other coats with about 30-40 LEDs mounted in a single row around the collar and front edges
pink and gray fur coat with about 20 white LEDs, randomly scattered on the lapels
---
pimp daddy coat with 'PD" initials in LEDs
white faux fur coat with initials 'PD' written on collar with white LEDs
Animated clips of the white 'PD' coat (Quicktime): pattern 1, pattern 2
photos of the Pimp Daddy (and his coat) in action
---
more party photos with the electric pimp
---
fiber optics in fur
For a beautiful (but more subtle) effect, we can attach a fiber optic bundle to each LED, and create points of light that are randomly scattered within the fur. And, if we use a full color RGB type of LED, we can change the colors of all of these points of light.
the "Bovine Rex" cow coat uses LED and fiber optics throughout the entire garment
(more photos and info here)
the "Rainbow Ostrich" coat (shown at right at Cyberfashion 2005) has fiber optics embedded in the collar, hidden within the long multicolor faux fur
---
In this example, fiber optics have been added to the zebra-patterned collar of a white furry coat.
Quicktime movies with sample animation of the fiber ends changing color:
clip 1 (1.5 MB), clip 2 (2.8 MB), clip 3 (1.7 MB), clip 4 with detail view (2.1 MB)
---
how to order
Light-up fuzzy jackets and other garments are available on a made-to-order basis. We can provide the "plain" fuzzy item, recommend good sources for faux fur coats, or add lights to one that you already have. Pricing is typically $15-20 per light for single-color LEDs mounted directly in fur, and $20-$30 or more per light for multi-color LEDs, or LEDs joined to fiber optic bundles.
Please see our custom orders pages for more information.
---