lighted patch with landscape image
For this project, a landscape graphic was printed on a sheer fabric, sewn into an embroidered patch, and illuminated from within by blue LEDs. When the LEDs are on, the stitched lines block the light, revealing the text in the sky and the horizon line in the picture.
The text below the image (GeorgeCooke.com) acts as a stencil, with light shining through the sheer areas (blue), and being blocked by the stitching (sewn in black thread).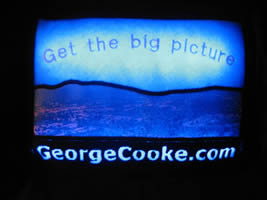 ---
how to order
We offer all kinds of flashy clothes that will enhance your stage presence. Please see our custom orders page for pricing guidelines, or contact us for more information.
---