I hope you like attention! These halter tops create a mesmerizing light show on your chest, providing yet another reason for people to stare at you all night. The top edge of the halter is lit up with a row of LEDs that twinkle, fade on and off, and sway side-to-side until your admirers are hopelessly hypnotized.
red velvet halter, front and back views

assorted colors

The lights are powered by a 9V battery, hidden in a small pocket under your arm. Your halter will glow all night - about 24 hours or more on a single battery.

purple spandex halter with purple lights

black spandex halter with rainbow lights
other spandex colors: live-wire lime, shocking pink, & electric blue
red velvet with red lights, black velvet with white lights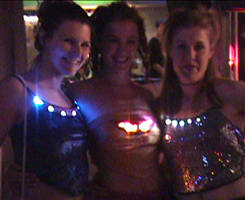 custom halters are available in a variety of styles and colors
front view of a sparkly blue halter

the battery is hidden in a small pocket under your arm

sample animation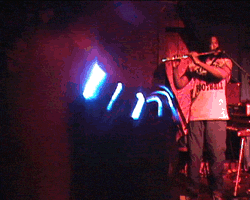 great for dancing!
---
how to order
The style of halter shown on this page is currently available as a custom order only, in your choice of fabric color and light color. Halters are typically made as "one size" (fitting approx size 4 to 14), with adjustable ties in back, but we can accommodate special requests for larger or smaller sizes, or other types of straps or closures.
Please go to our custom orders page for more information.
---