How do you accessorize a light-up halter, dress, or jacket? With a light-up purse, of course! Here are some examples of lighted handbags we've created in the past.
black bag with RGB LEDs and fiber optics
Animated clips with the light colors changing: sample 1, sample 2
---
other custom lighted handbags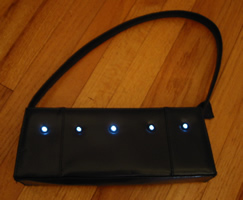 Animated view of lights in the shopping bag: clip 1
---
original eclectic electric line of sound-reactive handbags
Before we adpoted the name Enlighted, we made a line of sound-reactive illuminated handbags, as shown here.
hexagonal purse and triangular pyramid purse, with lights inside a translucent vinyl panel, view of sample animation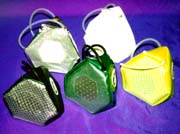 pyramid and hexagon purses in a variety of colors: all have multi-color sound-reactive light panels
various light-up outfits matched with Enlighted handbags
We are not currently producing the original sound-reactive handbags, but continue to show them in our gallery as examples of our affinity for funky geometric shapes and bright colors.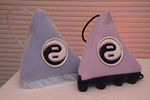 "puffy" pyramid purses without lights
---
how to order
We accept orders for custom handbags, and in most cases can add lights to a purse that you supply. Please see our custom orders pages for more information.
---