hip-hop, mascot for the 76ers
Enlighted created a new lighted costume for Hip-Hop, the basketball-playing rabbit mascot and crowd pleaser for the Philadelphia 76ers.

An indoor arena is an especially good place for lighted costumes - when the house lights are dimmed during player introductions, Hip-Hop can still be seen, cheering them on!

Learn more about Hip-Hop, the Hare Raisers, and the Sixers Dancers on their official site:
http://www.nba.com/sixers/mascot/index.html
For this project, we used about 75 feet of red, aqua, and royal blue EL wire to outline key parts of the suit. In some areas, stripes of multiple colors were placed next to each other.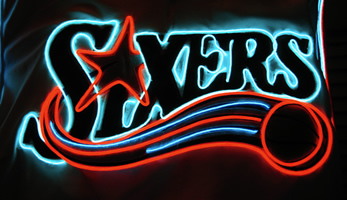 detail views of the lighted Sixers logo from the front of the shirt
The inverter (to drive the EL wire) and batteries are held securely in a belt-mounted pouch, allowing Hip-Hop to bounce, jump, and flip as he does in his acrobatic routines with the Hare Raisers.
---
how to order
We offer all kinds of flashy clothes that will enhance your stage or arena presence. Other examples of sports-related lighted clothing are shown in the athletics section of our Enlighted performers page.
Please see our custom orders pages for more information.
---