This illuminated vest uses an original Issey Miyake shell as its foundation. The piece was commissioned by world-renowned artist and lighting designer Ingo Maurer, and shown at his New York store in May 2002.
100 green and white LEDs with a soft twinkling effect have been added within the three-dimensional swirls of metallic fabric, complementing the futuristic design.

Four AA batteries are hidden under the arms (two on each side). The piece retains its ability to be reversed, and worn inside out for a variation in texture and reflectivity.
two views of vest in dimmer light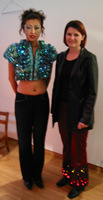 Full view of model in Issey Miyake illuminated vest, posing with Janet Hansen in flame pants
---
how to order
We accept orders for all types of custom illuminated clothing. Please check our orders page, or contact us for more information.
---