Enlighted was commissioned to create two matching sets of lighted accessories for Jowell y Randy to wear in concert. Working with a black and blue color scheme, we created custom lighted ties with 20 LEDs each, hats with 20 lights around the hatband, and gloves with 9 lights in a diamond shape on the backs of the hands.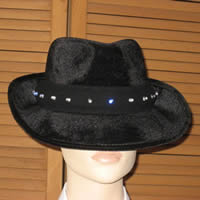 ---
how to order
We offer all kinds of flashy clothes that will enhance your stage presence. Other examples of lighted ties, hats, and gloves are availble on other pages of our site.
Please check our custom orders pages for more information.
---