Grammy Awards,
January 26, 2014

Enlighted created these light-up boots for Kacey Musgraves, worn during her live performance at the 2014 Grammys, where she won for Country Song of the Year and Best Country Album.
Enlighted also created the lighting for the western jackets worn by the band. All pieces were decorated with warm-white LEDs for a "retro" feel, with a custom twinkling pattern that was chosen to go with the song, "Follow Your Arrow."
Video of the performance (will open in a new window)
---
the boots in our studio (before the rhinestones were added)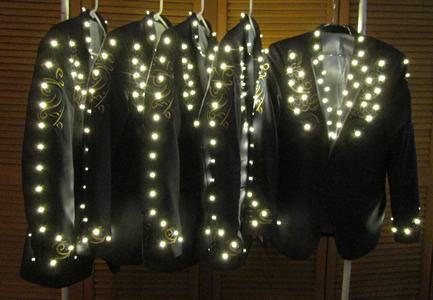 Enlighted suit jackets with warm white LEDs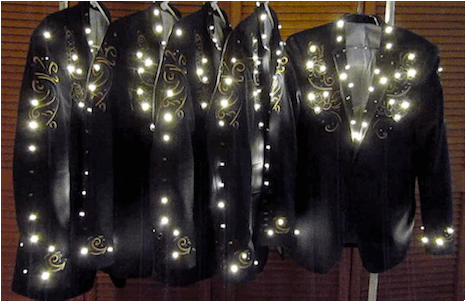 The flashing patterns in the boots and coats have several user-selectable settings, including a steady glowing effect, and different chasing speeds.
---
how to order
We offer all kinds of flashy clothes, props, and accessories that will enhance your stage presence. Please see our custom orders page, or contact us for more information.
---