jeff mcbride

Jeff McBride is a well-known magician and founder of the McBride Magic and Mystery School, based in Las Vegas, Nevada.

Please see Jeff's site, mcbridemagic.com, for more information about his work.

Enlighted was commissioned to create several custom lighted garments for Jeff, for use in has act as well as his personal wardrobe. He supplied his own hat and coat, and we installed the lighting.

We also created a custom pair of laser gloves for him, as described here.
The coat was decorated with about 100 gold LEDs that were animated in a slow twinkling pattern. See video clip for sample animation.
We also installed several types of lighting on the hat, including a pair of wings (built with EL wire), a cluster of gold LEDs, and a traditional LED worklight, for use in close-up magic performances.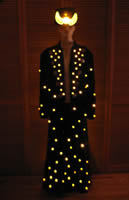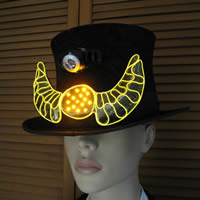 front view of the coat and hat worn together, closer view of the hat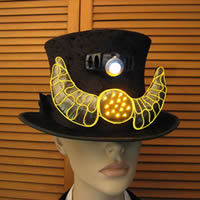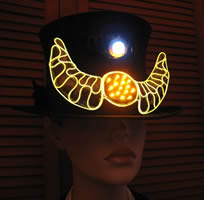 ---
how to order
We offer all kinds of flashy clothes that will enhance your stage presence. Please see our custom orders page for pricing guidelines, or contact us for more information.
---