mixed messages bra
A performance art piece, challenging the viewer to NOT look at the blinky light-up message on the model's cleavage.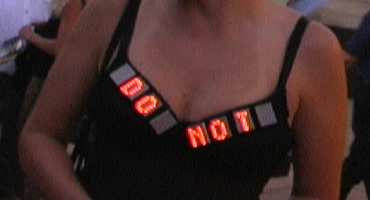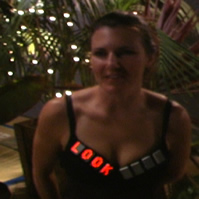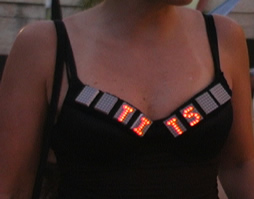 ---
This page has gotten a lot of publicity -
http://www.gizmodo.com/gadgets/gadgets/enlightened-bra-160472.php
http://www.shinyshiny.tv/2006/03/led_message_bra.html
http://www.redferret.net/?p=6666
We were even included on Dave Barry's 2006 Gift Guide!
---
how to order
Although we have created a variety of scrolling message designs in the past, in this block message style on hats, and with hand-wired LEDs and flex circuits on other garments, we have discontinued these products to focus our attention on other methods for displaying logos and text, such as embroidered fabric-based displays.
Please see our custom logos page for more information about other methods for creating lighted text.
---