We create custom illuminated patches that enhance your name, logo, or other design with lights. These patches can be attached to a hat, shirt, jacket, or just about any place where a high-visibility message is desired. If you don't want it to be permanently attached to your garment, we can make a removable version that is held in place with velcro, snaps, or some other form of temporary attachment.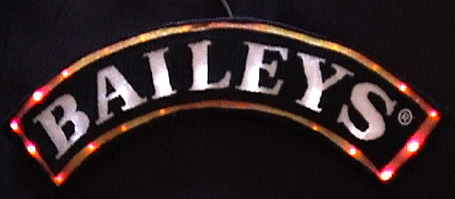 illuminated patch with embroidered overlay
The top layer of the patch can be made from an embroidered fabric overlay, a screen-printed design, vinyl with cutouts, or other material. The colors of the original logo can be retained in the patch, so that they are visible when the lights are off.
As with all other Enlighted designs, the lights can be programmed to flash, twinkle, or fade in a variety of patterns. In the Baileys example, white lights illuminate the letters in the name, and red, orange, and amber lights twinkle around the outer border.
The heart-shaped patch, shown below, contains rings of red LEDs that beat rhythmically. A detailed description of the heart patch is found here.
| | |
| --- | --- |
| | |
| animated view of Baileys patch | light-up heart patch |
Depending on the size of the patch and the length of battery lifetime desired, the patch may be completely self-contained, with batteries and on/off switch mounted on the back. The batteries may also be held in a separate location (such as a shirt pocket), and connected to the patch by a small pair of wires that can be hidden within the garment.
The backing is typically made from flexible fabric. Alternately, an illuminated patch can be mounted on a large flexible magnet. This method was use to make limo door signs for Flyerman (to match his light-up tuxedo, shown here).
---
how to order
Illuminated patches are custom-made to your specifications. We can use your existing artwork to create a patch, or help you to design text and graphics that are best complemented by lighting.
Please check these pages for more information about lighted text and logos.
---