This custom lighted vest was made for a member of the Pharaoh Souls motocycle club of Virginia. An embroidered patch was created to act as a stencil for the interior LED lighting. The yellow glow of the LEDs illuminates the text and a few key areas of the design.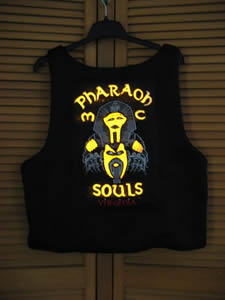 closer views of the logo, with the internal lights on and off
---
how to order
We offer all kinds of flashy clothes that will enhance your visibility. Please see our custom orders page for pricing guidelines, or contact us for more information.
---