leather jacket with pink LEDs

This is one of Janet's favorite pieces in her personal collection of lighted clothes. It is a simple fitted hip-length black leather jacket with about 50 pink/purple LEDs mounted in grommets.

When the lights are off, they look like shiny studs that are an intentional part of the design (because they are!), so it's easy to blend in when she wants to pretend she's wearing a normal coat.
Then, when I'm feeling a little flashy, I turn it on to one of the pre-set patterns. The default mode is a soothing pulsing fade, with a pace similar to a hearbeat. Other options include a steady glow, a random twinkling effect, or fast random flashing.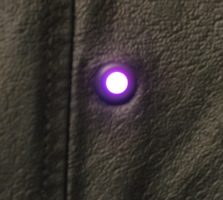 ---
how to order
Light-up leather jackets and other leather garments are available on a made-to-order basis. We can provide the "plain" leather item or add lights to one that you already have. Other examples of LED leather work can be seen on this page.
Please see our custom orders pages for more information.
---