---
pops goes vegas

---

Indianapolis Symphony Orchestra

Indianapolis, IN

premiering June 2007, with ongoing North American tour
This show honors the music, the celebrities, and the showgirls of Las Vegas, blending Liberace-style costuming and set decoration with a live symphony experience. Enlighted created the lighted white tuxedo that is worn by the conductor.
The jacket contains several hundred LEDs, with most of them being concentrated on the back because that side is most visible to the audience. The word VEGAS is written in block letters with about 60 closely-spaced red LEDs, and surrounded by a diamond of gold lights that flash in a sequential pattern. The cuffs of the arms are decorated with red and gold lights that flash in a flickering flame pattern. And finally, the remaining areas are filled in with a random star pattern of blue and white twinkling LEDs.
Video clips showing sample animation of the lighting: full view, closer view of upper back
front, back, and side views of the white tuxedo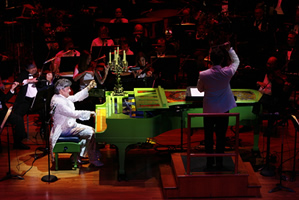 ---
how to order
Lighted suit jackets such as the one created for this project are made as custom orders, in your choice of size, color, and light arrangement. Other examples of lighted suits can be seen on this page.
If you're interested in increasing your visibility on stage, please see our custom orders pages, or contact us for more information about lighted costumes for musicians and other performers.
---