This dress actually consists of a striped black and red corset, worn over a ruffled bra, with a full-circle gathered skirt with black organza overlay. There are 30 red LEDs in the bra, and more than 300 LEDs of various sizes in the skirt. The lights fade on and off in a subtle random twinkling pattern. (Well, as subtle as a light-up dress can be ...)
full views of the red corset dress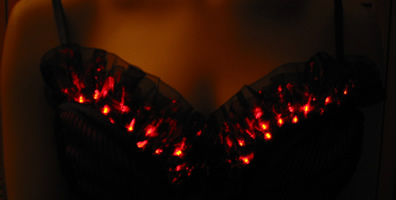 another view of the ruffled top with red LEDs
more views of the top
Janet's Halloween outfit this year
as seen at a performance art exhibition in Solana Beach, CA
as seen at the SIGGRAPH 2004 Cyberfashion Show
more Cyberfashion images ...
---
Eddie Tapp Photography
Amy Cantrell Photography
For more information about the desert photography, please see this page.
---
how to order
Light-up dresses are available on a made-to-order basis. We can design the entire dress to your specifications, or we can add lights to one that you already have, if you prefer. Please see our custom orders page, and contact us if you have any questions.
---