custom lighting for ufo lamp

Enlighted was commissioned to create custom strings of lights for installation in these hand-made "UFO" lamps.

A series of blue LEDs was constructed with a flexible moisture-resistant wire harness joining the lights. The LEDs are lit in sequence to simulate a spinning effect.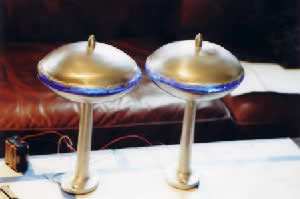 ---
how to order
We enjoy collaborating with other artists, providing customized light effects that offer a finishing touch to their designs. We can install lights in a completed garment, costume, or work of art. In some cases, it may be preferable to get us involved early in the design process, so that the lights are easier to install.
Please see our custom orders pages for more information about collaborating on a lighting project.
---