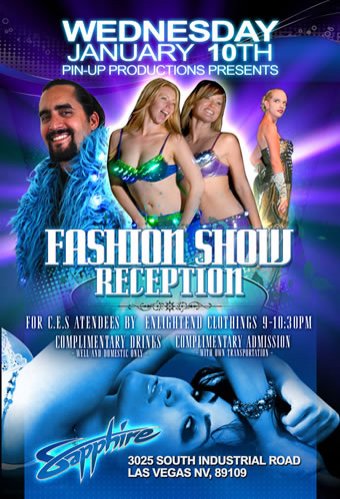 This week, Sapphire Las Vegas promoted an event with pole-dancing robots, in an effort to offer tech-related entertainment to attendees of the annual Consumer Electronics Show (CES).
I found this amusing, since Enlighted has been involved with similar publicity stunts in the past. In fact, we put on a high-tech fashion show during CES 2007, with a similar goal, at the same club!
Sapphire set aside some time for us to use the main stage, and provided about a dozen women to serve as models. They wore a variety of lighted bras, dresses, and furry LED accessories. One performer was concerned that the corset she was modeling would be difficult to untie quickly, and her friend replied "Oh honey, it's not that kind of show!" Everyone remained clothed during the show, which may have been confusing for patrons who weren't there for the fashion or the technology.