Custom Orders
Here at Enlighted, we create custom lighted clothing that is made-to-order for a wide variety of applications. Our design process begins with a review of your artistic and technical goals, as well as some questions about your practical requirements:
Do you need the lights mounted in a particular type of garment or accessory?
What kind of visual effects do you want to create?
How will these pieces be used? (are there special requirements for brightness, controls, durability, battery life, etc?)
What is the timeline and/or budget for the project?
---
Garment Types
We can install lights in just about any type of garment or accessory, although some pieces will be better-suited for concealing the electronics than others. We recommend mounting the lights in a fabric that can provide a reasonable amount of support. A thin or stretchy fabric might require the addition of a reinforced non-stretch layer in the areas where lights are added. It can be useful to choose a garment that already has pockets (to hold controllers and batteries) and a lining (to conceal connecting wires), although we can also add those parts as needed.
For optimal durability, the lights should not be placed in locations where they will be crushed or subjected to other extreme mechanical forces (for example, on surfaces you would sit or stand on). The electronics will take up some space inside in the garment, so we recommend that you select something that is not too tight, and to verify the fit in advance if you are sending a pre-made garment to be illuminated.
Washability can be another key concern for the design process. Many of our LED-based designs with permanently installed lights can be hand washed in water (with the batteries removed) with a mild detergent and then dried flat. They can also be spot cleaned, or treated with a fabric-freshening product. We don't recommend machine washing, or machine drying, or dry cleaning, because of the risk of high stresses (due to spinning and bulk processing), extreme temperatures, and harsh chemicals that may be involved. If you need a light-up garment that is machine washable, we can also provide lighting designs in which the electronics are fully removable.
---
Lighting Options
We can achieve a wide range of lighting effects with LEDs mounted in fabric, using techniques that we have developed over the past 25+ years. The lenses of the LEDs can be exposed on the outer surface of the fabric, producing sharp points of light, or they can be partially concealed behind diffusing materials for a more uniform glow. The emitted light can also be shaped with fiber optics, light guides, and with opaque overlays acting as stencils.
RGB LEDs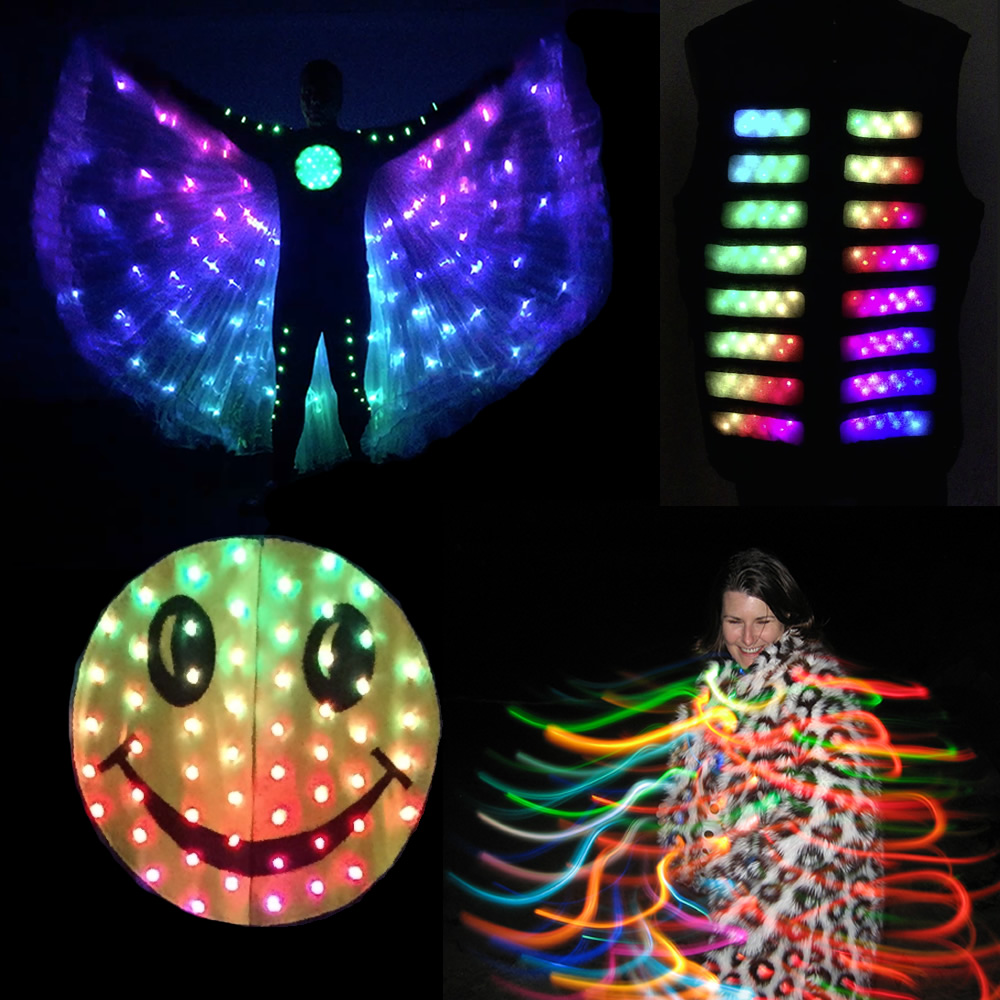 Most of our newer designs are built with RGB LED pixels that can emit any color of visible light, with custom control systems that produce complex animation patterns and color changes. These pixels are available in several form factors, including single-LED pixels with rounded lenses, single-LED pixels with a flat surface (surface mount LEDs), and clusters of flat pixels arranged in rings, bars, and other shapes. Our preferred choice of light source will depend on the type of supporting fabric, the density of the light, and the degree of flexibility that is needed in that region of the garment.
When we work with RGB LED pixels, we are typically using small round pixels that are connected by thin flexible wires. This type of installation is highly durable, and also allows us to have full control of the placement and spacing of the lights. These pixels can be permanently mounted in a garment, or they can be installed by methods that allow them to be removed when the garment is washed.
RGB LED pixels offer the most versatility for displaying animated effects, serving as a blank "canvas" that is continually updated with the light patterns defined in our custom software. The light patterns can be triggered by ambient sounds, using a microphone in the controller.
The pattern can be selected by manual switches built into the garment, or they can be triggered by wireless DMX commands, as part of a professional-grade stage lighting system. For close-range wireless control, we also offer the Enlighted iOS App, which communicates with Bluetooth Low Energy (BLE) hardware in the controller.
Single Color LEDs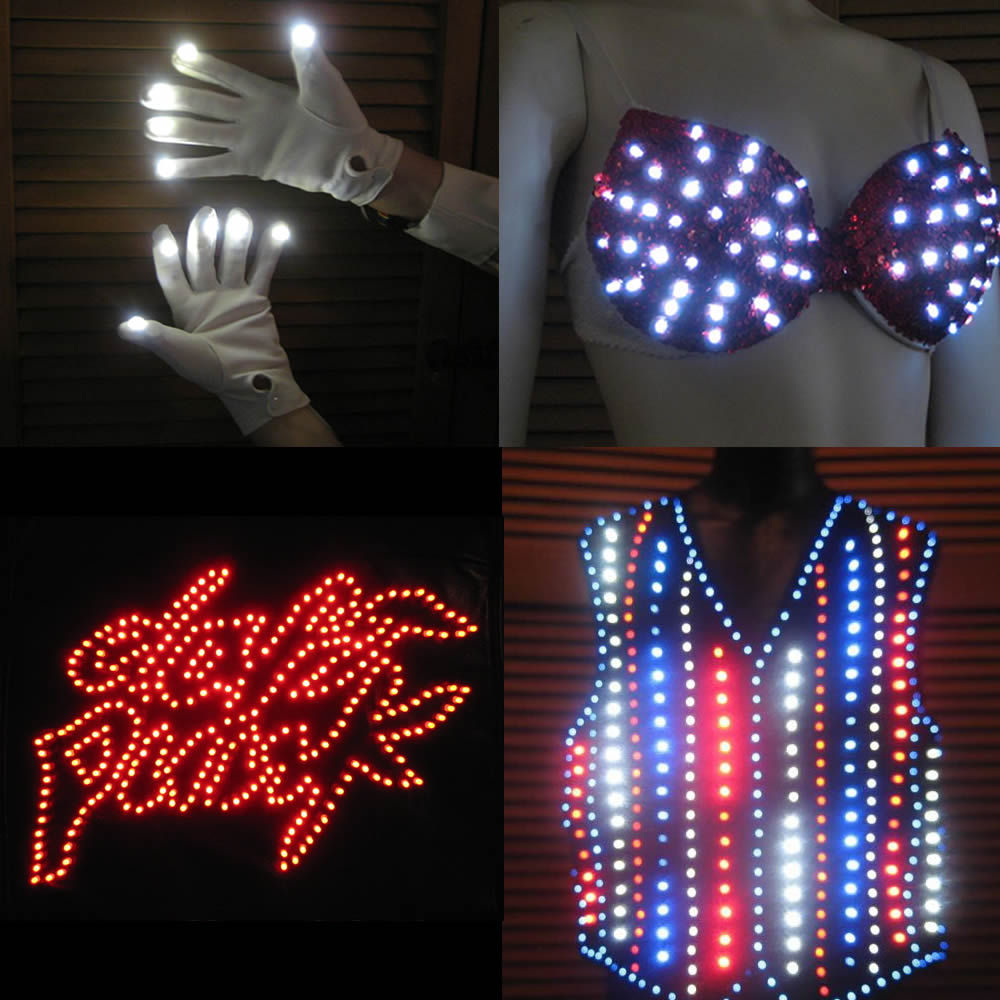 We also work with traditional single-color LEDs, which are available in specific colors (red, orange, gold, green, aqua, blue, pink, warm white, and cool white). These can be illuminated with a steady glow or a variety of simpler animation effects.
EL wire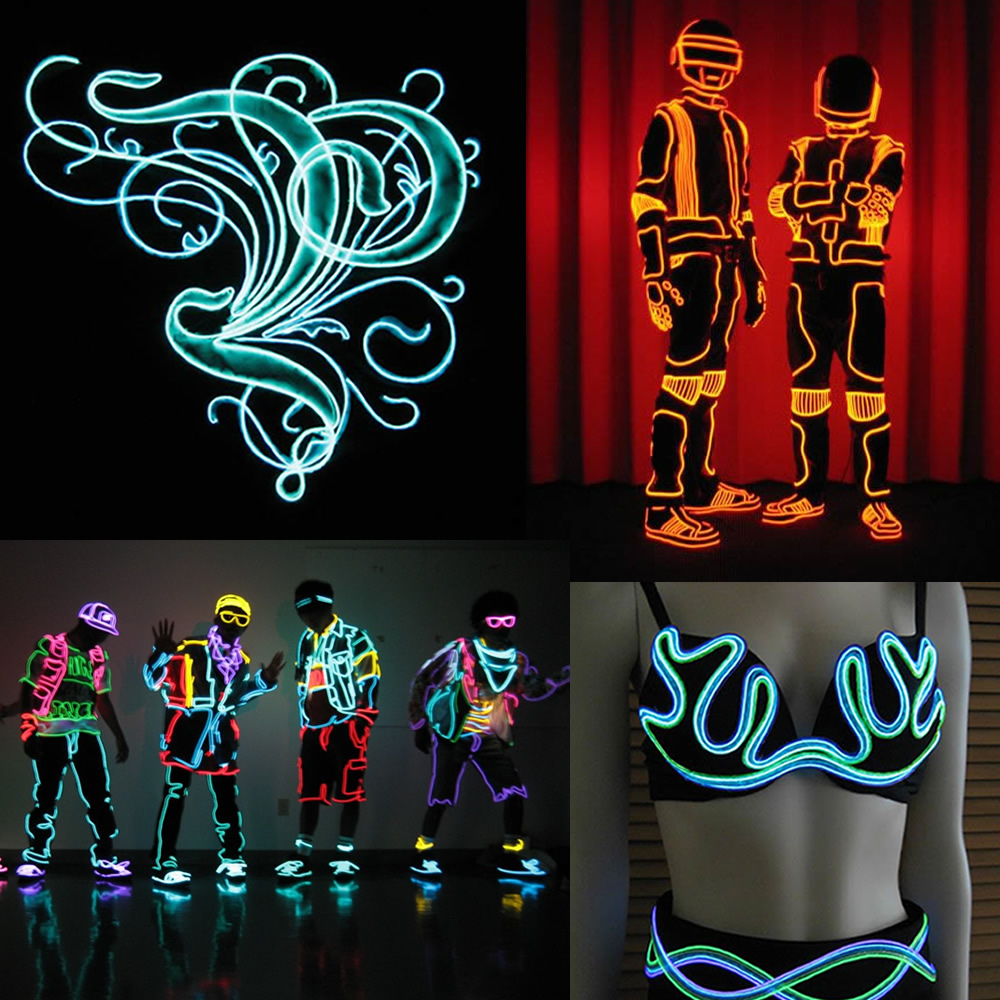 Although we have worked with EL wire in the past, we are now focused exclusively on LEDs, and we do not offer EL wire for new custom installations. We retain some examples of older projects in our gallery to show our history, and to help explain the difference between LEDs and EL wire.
---
Pricing & Schedule
The price of a custom order can vary over a wide range, depending on the amount and type of lighting, the type of garment that is used, the number of copies involved, and the turn-around time, as well as other factors. In many cases, our clients will supply the base garment to be Enlighted. If we provide the base garment (or create something completely original), those costs would be determined separately.
The minimum cost to install custom lighting is usually $500, for a design with up to 20-30 LEDs. Complex designs with hundreds of lights would be in the range of thousands of dollars. Additional costs would apply for wireless DMX control, BLE control, and for projects that require extensive development of custom hardware or software.
Our prices cover the full installation of lights into a garment. This includes our design services, the cost of all electronic parts and support circuitry, and any sewing that is required to complete the installation and conceal wires within a lining. Batteries are also included, as well as battery charging systems, when rechargeable packs are preferred.
If you have a certain budget in mind, please let us know and we might be able to make some recommendations.
Shipping Charges
In most cases, standard ground shipping within the US will be included within the cost of a project. An upgrade to rush US shipping is typically $50-$100, depending on where you are and how soon you need to receive it. We can also ship to other parts of the world - international shipping and handling charges are typically $75 and up.
Payment Options
We accept cash (for local orders), checks, wire transfers, and all major credit cards. We also accept payment via PayPal, Venmo, Zelle, and CashApp. Please contact us by phone or email to initiate the process for a custom order.
We typically require a nonrefundable deposit of at least 50% before we begin a custom project, with the full balance due before delivery. Other payment plans can be arranged for repeat customers, in some cases.
Lead Time For Custom Orders
Most custom designs can be completed within 4 to 6 weeks, although this can vary depending on the complexity of the project and our workload at the time. We will commit to a delivery date when an order is confirmed.
Rush Orders
Rush orders may also be possible, depending on our availability, with delivery times within 1-2 weeks or less. If you need your clothes to be Enlighted by a certain date, please include that information when you make your inquiry.
Returns, Exchanges & Repairs
All sales are final once you have committed to a design, made payment arrangements, and the work has begun. We cannot accept returns or exchanges for custom projects.
We will do our best to make sure that you are satisfied with your purchase. This begins early in the design process, when we will discuss your aesthetic goals and technical requirements. We will help you to understand what you are ordering, to have realistic expectations for the results that can be achieved, and to be prepared for the special care and handling that these garments typically require.
We guarantee that everything will work upon arrival. If you discover defects in materials or workmanship that require further attention, and can return the garment to us, we will make repairs or design adjustments at no cost (within reason, depending on the nature of the project).
If the electronics in your garment have been damaged by extended use, or improper care and handling, many parts can be repaired or replaced. The cost of the repairs will depend on the type of work, and the turn-around time that is needed.