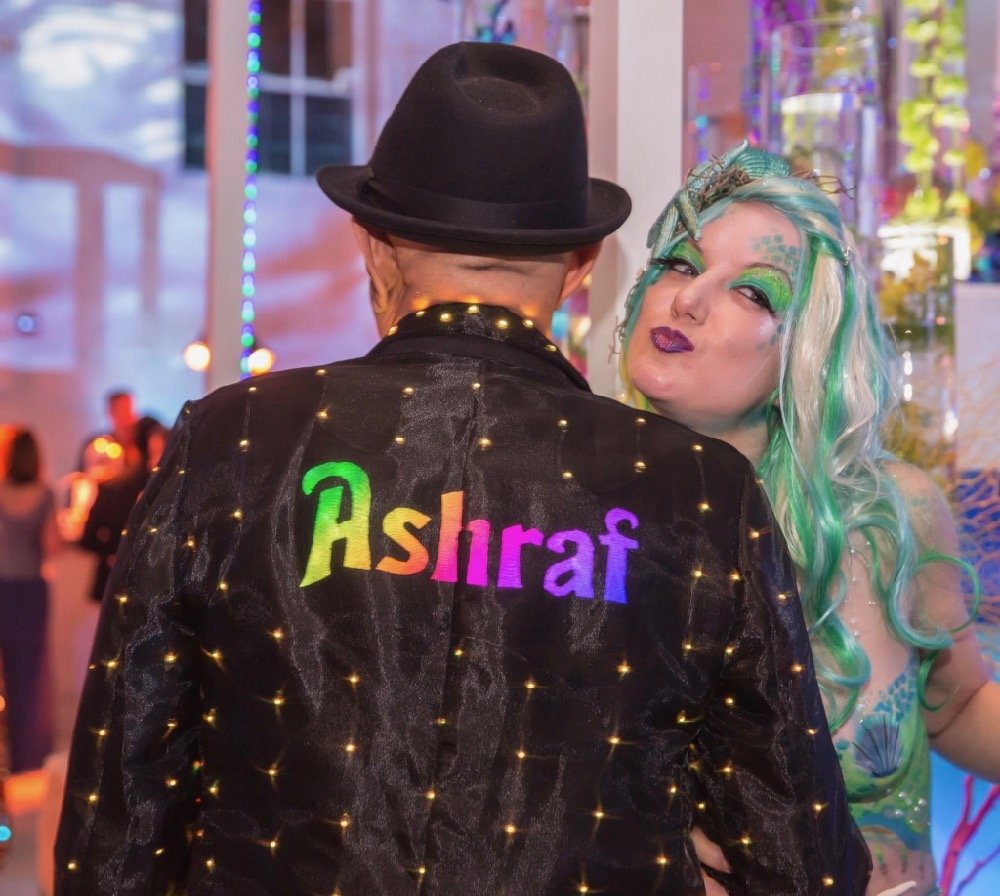 This lighted tuxedo jacket, pants, and bowtie are illuminated with hundreds of RGB LEDs that are animated in patterns that travel seamlessly across the entire body. The lights are spaced at 2" intervals in most of the jacket, with closer spacing (~1") on the bowtie, pants, collar, and in the backlighting for the name 'Ashraf' on the back, which is created with custom digital embroidery.
The effects in the bowtie and pants are synchronized when they are plugged into the central controller in the jacket, but they can be detached to allow the jacket to be worn separately.
The garments are made with a black base layer, with the lighting mounted on the outside, and covered by a sheer external shell made of black organza.
Our client for this project was Ashraf Habibulah, CEO of Computers and Structures, Inc. He wore the suit when he made his grand entrance at CSI's 43rd annual gala in February 2018.
In addition to being a huge fan of LED clothing, Ashraf is well-known for hosting epic parties, and for his mission to have engineers properly recognized as rockstars. He's wearing custom Enlighted clothing in many of the inspirational videos on his YouTube channel.
controls
The on/off switch and mode switches are located in the hem of the jacket, near the right hip. This allows for easy pattern selection without the need to reach inside a pocket.
video
In the video below, we show samples of a series of patterns for the front view and back view of the entire suit.