Cruise Ship Dancers
---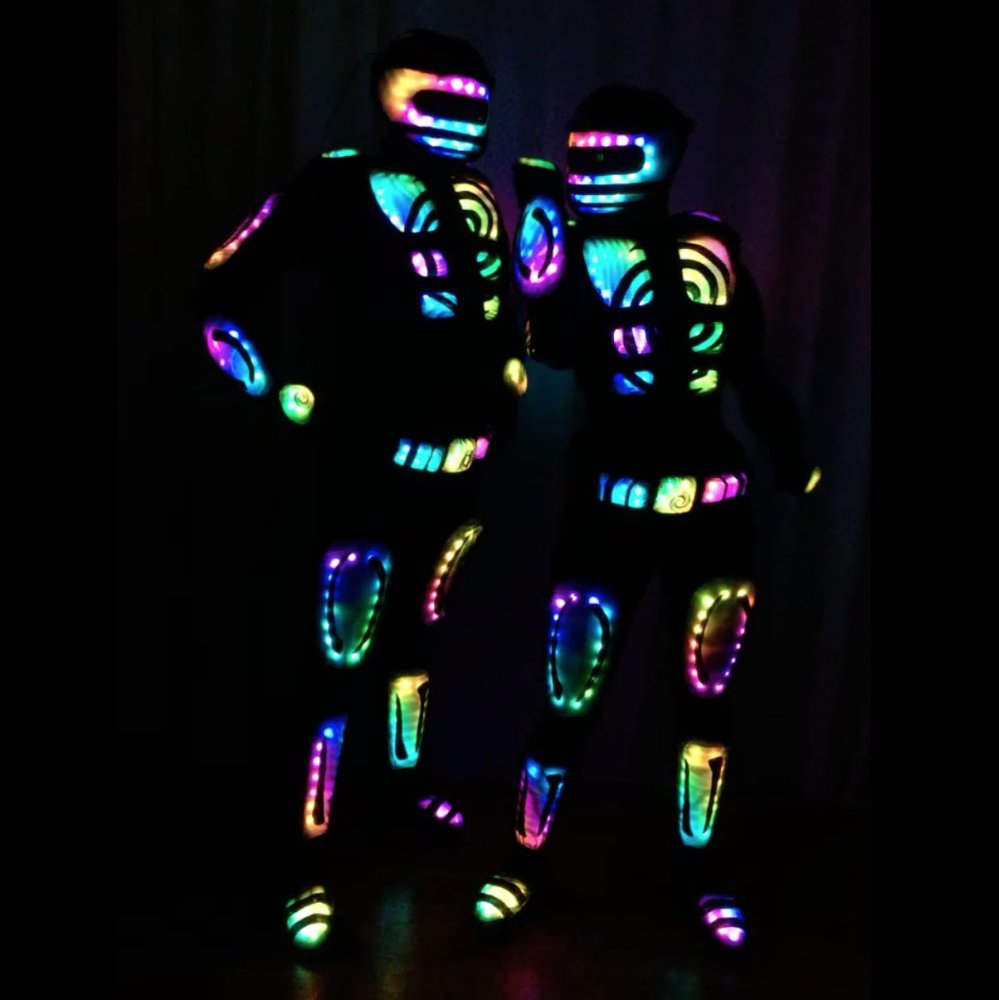 We were commissioned to create this set of costumes for a major international cruise line, for a live production on a ship. The costumes are being used in a part of the show where nine dancers represent the supernatural powers of the lead character. They perform on a dark stage, with different sections of their costumes lighting up in a rapid synchronized sequence.
Our design requirements included the following:
- light up the whole body, including head, shoulders, arms, hands, chest, belt, legs, and feet
- create complex animated RGB LED effects, triggered via wireless DMX
- include ability to display specific combinations of body parts, with other parts dark
- high level of durability to survive dance moves, including flips
- one size fits most, since the cast will change periodically
- washable base costume with removable electronics
- quick change in and out of costume
We met these challenges by building a set of interconnected lighted panels that could be worn over a bodysuit. The main piece on the torso is a zip-up vest made from a foundation of athletic shoulder pads with a black spandex cover. It contains all of the lighting for the chest, abdomen, and shoulders, as well as the LED controller, DMX receiver, and battery pack, which are mounted on the back. The arms connect to each shoulder with a detachable connector, and the arm and hand panels are tightened onto the body with adjustable elastic straps with buckles.
A heavy-duty utility belt contains more lighting, and attachments for the legs and feet. The lights in the headpiece are mounted inside an industrial protective faceshield. The belt and headpiece both plug into the torso, so the electronic portion of the costume can be treated as three major parts when dressing and undressing.
The client also wanted the light in each panel to be diffused, with the LED hotspots concealed as much as possible. This was achieved by mounting the LEDs behind translucent plastic shells with a rough/frosted surface. These plastic shells were hand sculpted, cast in resin, and then vacuum-formed by artist Jason Hite of Hitestudios.com.
To ensure that the white/gray color of the domes did not interfere with the blackout requirements of the show, these pieces were all covered with a sheer black fabric mesh so that all parts would look black when the LEDs were off.
video
The clip below shows some of the patterns on a mannequin in our studio, with the effects being changed by wireless DMX.