Enlighted Puffy Vest
---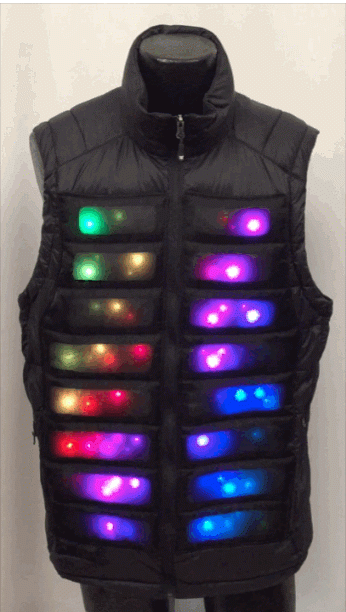 Our futuristic version of the puffy vest (aka puffer vest) is decorated with over 110 RGB LEDs embedded within the quilted stripes covering the front of the vest.
These pixels display a series of user-selectable effects, including twinkling patterns, rainbows, and simulated fire. When the lights are off, it looks like a normal black vest.
controls
A small fabric-covered panel at the lower right front contains the on/off switch, two mode switches (to advance to the next pattern or previous pattern), and a brightness switch that cycles between five settings.
video
The clip below shows examples of several of the pre-programmed animation patterns, including sound reactive effects.
How to Order
This limited-edition item is available in our online store.
$1800.00