LED Flame Pants
---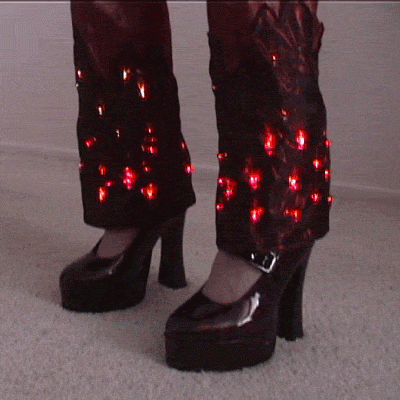 Liar liar pants on fire! These pants make it look like you're burning up the dance floor, literally. Flickering lights creep up from your ankles, as if you're standing at the base of a campfire.
The LEDs are mounted in flame-shaped appliques, with the lights aimed sideways so that the reflections contribute to the effect. All wires are concealed, and the batteries are typically mounted at the waist or in a built-in pocket in the pants.
deluxe red and gold flame pants
This pair (originally created in 2001) is made with about 100 single-color red and gold LEDs.
purple metallic pants with blue flame effect
The lights on these pants flicker in a random pattern, similar to the flame pants, but the LEDs are white, blue, and purple (more like a propane flame). There are about 25 lights per leg. These were designed as part of a set, with matching bra and belts. They were part of our contribution to the SIGGRAPH Cyberfashion Show in 2004.
red metallic pants with flame effect
These pants are a simplified version, with about 40 red and gold single-color LEDs.
video
The clip shows the LED animation for the purple pants described above.