Miss Pole Dance Victoria
---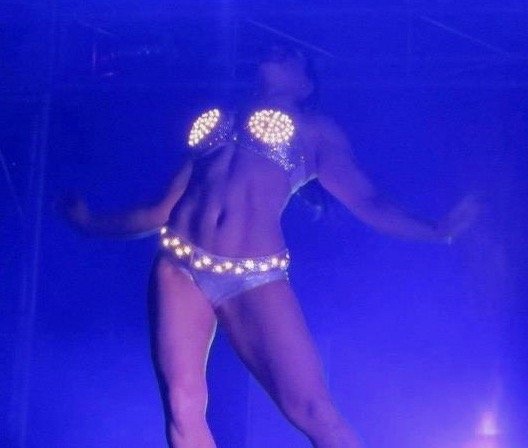 This lighted bra and belt set was commissioned by Kristy Sellars of Victoria, Australia. She won Miss Pole Dance Victoria 2012/2013 while wearing these pieces as a surprise layer of her outfit.
We installed more than 100 miniature warm white LEDs in the outer fabric of a bra and matching belt. The lights are mounted individually, with the lenses exposed on the outside surface. Inside the lining, all components are joined together with flexible wires to ensure that the pieces are durable enough to survive the demanding pole-dancing routine.
The photos taken in our studio show the garments before they were decorated with gemstones.
controls
The lights are triggered by manual switches, with a timed delay programmed into the custom LED controller.
video
The clip below shows the entire winning performance - the lights are revealed around 3:25.