New York Knicks City Dancers
---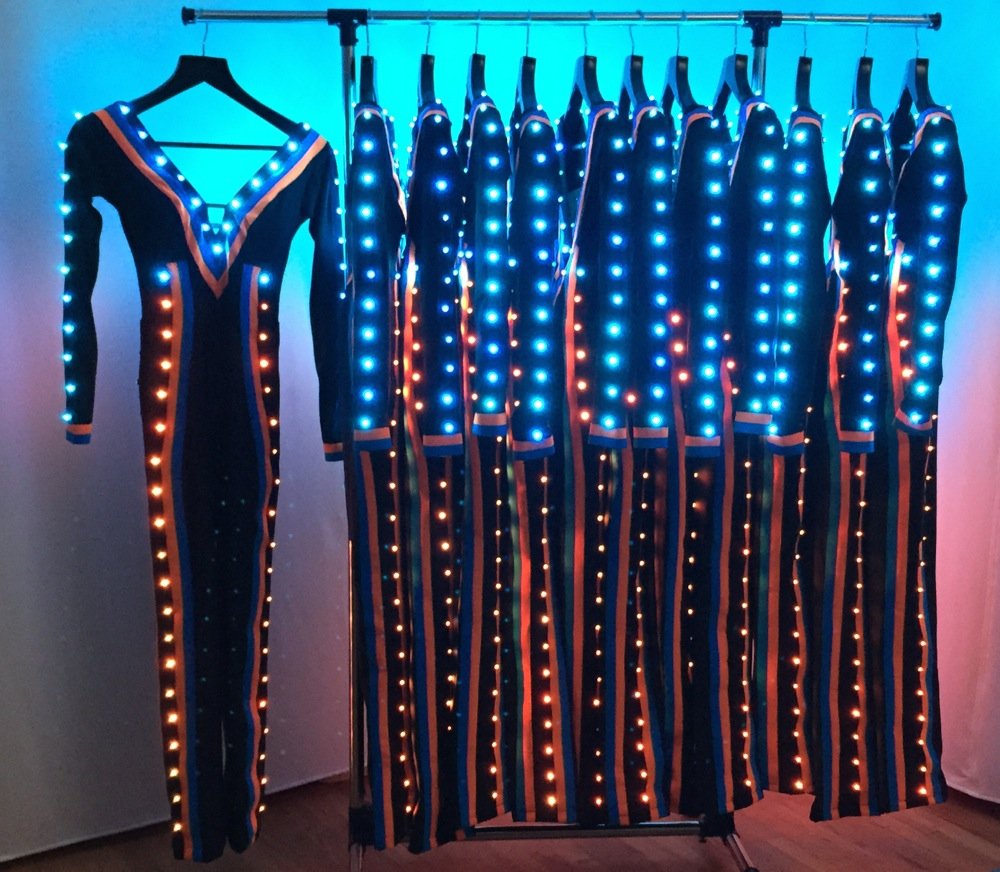 Enlighted was commissioned to design, build, and install the RGB LED pixel lighting systems in these suits for the New York Knicks City Dancers, for use during player introductions at home games. The lights are activated in a variety of colors and patterns that are synchronized with the choreography as well as the projection mapped graphics on the arena floor.
wireless dmx control
This system allows for independent control of 1600 individual pixels (16 costumes with 100 pixels in each), using only a single DMX universe of data, transmitted wirelessly. This minimization of bandwidth is ideal for applications where other wireless systems will be operating simultaneously.
We allocate 25 DMX channels for each of the 16 costumes, and use these channels to transmit a series of parameters that are decoded within our driver and mapped onto the pixel layout that has been specified within our software. These parameters define RGB values of foreground and background colors, and a variety of animation effects, including row and column masks, wipes, and twinkling effects.
Our system can be customized to support a different number of independent costumes, pixels, and DMX parameters per garment.
design and construction notes
The electronics were specially designed to meet the high durability requirements of a dancer wearing a tight-fitting spandex suit. Each RGB LED pixel is mounted individually in a reinforced grommet built into the suit. The pixels are joined together by flexible wires hidden within the lining. The DMX receiver, LED driver, and rechargeable battery pack are held in a zippered pocket in the center back of the suit.
video
The LED dance suits made their debut in November 2015, as shown in the first part of the video clip below.
The second part of the clip includes a close-up view of some of the suits on a rack in the Enlighted studio, running through some test patterns.