Daft Punk - Alive 2007
---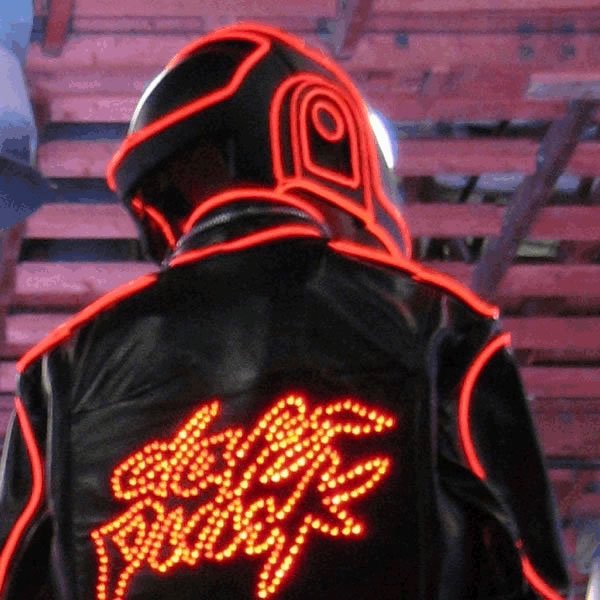 French electronic music duo Daft Punk toured the world in 2007 with their giant flashing pyramid and signature robot costumes.
Guy Manuel de Homem-Christo and Thomas Bangalter are widely known for their stunning audiovisual performances, so we were thrilled to have the opportunity to contribute some Enlighted artistry to the experience.
We installed several hundred feet of red EL wire on each leather jacket, following the seam lines and key styling details. The Daft Punk logo on the back of each jacket (originally written with metal studs) was re-created with about 300 red LEDs. For the lighted helmets, we attached EL wire to matte black replicas of the metallic helmets that are worn for the earlier part of the show.
The set was similar to their groundbreaking show at the 2006 Coachella Music Festival, with various lighting components being revealed gradually, in order of increasing complexity. When they decided to add an encore for the 2007 tour, the band came up with the idea of lighting themselves up, as well.
The suits remain dark until about halfway through the 10 minute encore, when a pulsing red light winds its way through the stage lighting, like hot lava flowing through a pipe. At the climax of this dramatic sequence, the light bursts upward and the costumes are illuminated, leaving the audience wondering if they have arrived from another dimension, or if the image is some kind of holographic projection.
We added pants, gloves, and shoes to the outfits for the 2008 Grammy Awards.
video
The first video clip below shows the portion of the encore where the lighted costumes are revealed.
In the second video, taken at the end of the show, the robots take a final bow and turn around so that the LED Daft Punk logos are visible on the backs of their jackets, with the EL wire portion turned off.
The third video has the entire encore, from another viewing angle. The reveal sequence starts around 4:35, and the suits light up at 5:09.