Daft Punk - Grammys 2008
---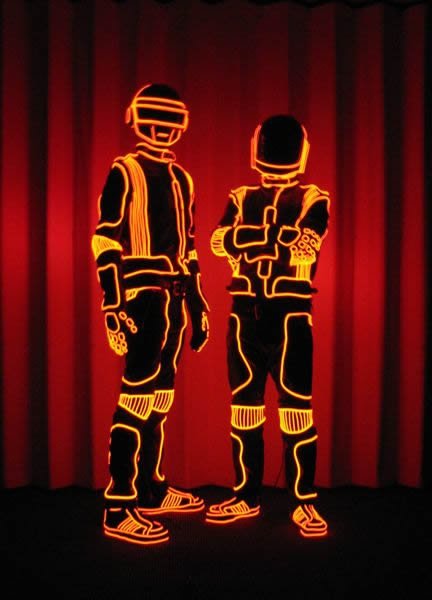 Daft Punk made their first television appearance in the 14 year history of the band, as surprise guests with Kanye West, on the 50th Annual Grammy Awards. The show was broadcast from the Staples Center in Los Angeles, CA, on February 10, 2008.
Kanye West performed his Grammy-winning "Stronger" on a futuristic set resembling an extraterrestrial landing site with a pyramid in the background. Towards the end of the song, the pyramid opens to reveal Daft Punk playing "Harder Better Faster Stronger", wearing their red-outlined Enlighted suits.
In addition to the signature robot helmets and jackets (from the encore of the Alive 2007 tour), they wore matching lighted gloves, pants, and shoes that are partly visible when the cameras show the interior of the pyramid.
We also installed aqua EL wire outlines on the violins that appear as floating instruments near the end of the song.
video
An excerpt from the performance is shown below.