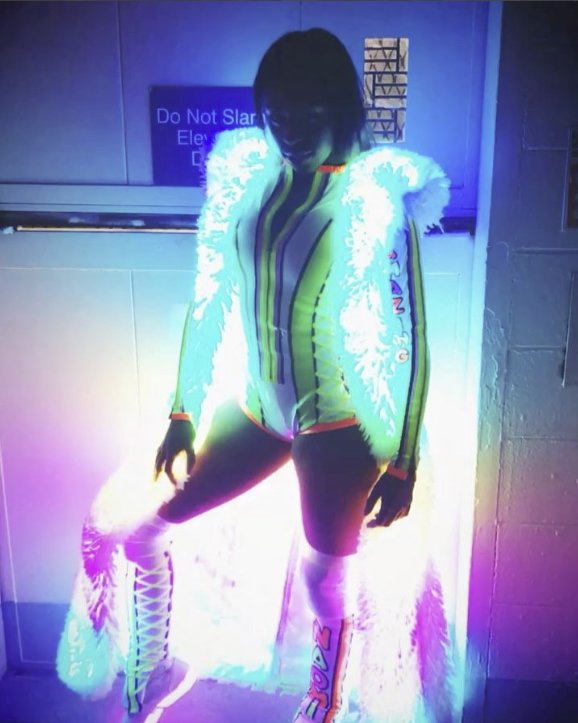 Enlighted created this custom lighted garment for Naomi, the two-time WWE SmackDown Women's Champion. It is a sleeveless, full length vest/coat, made of shaggy white faux fur, and illuminated with hundreds of RGB LED pixels.
The lights are animated in a variety of patterns, mostly involving high-energy neon colors and rainbow effects that flow over the surface.
It was designed as a companion piece for her LED championship title belt, and first worn for her grand entrance defending her title at the WWE SummerSlam on August 20, 2017.
This garment is similar to our Enlighted Comforter, but in a more wearable fitted form.
ON YOUR FEET, @WWEUniverse... it's time to FEEL THE GLOW! #SummerSlam @NaomiWWE pic.twitter.com/DNPGhiVgyJ

— WWE (@WWE) August 20, 2017
video
The video below shows Naomi using the lighted vest for an entrance on WWE Smackdown Live (in Dec 2017). She enters the stage in the dark (where the rainbow colors are more visible), and then the vest is shown under UV light for the rest of the entrance.
The second video shows some of the animation patterns in the Enlighted studio, as viewed from the front, side, and back.
The third video demonstrates the sound-reactive mode: