The Rockettes New York Spectacular
---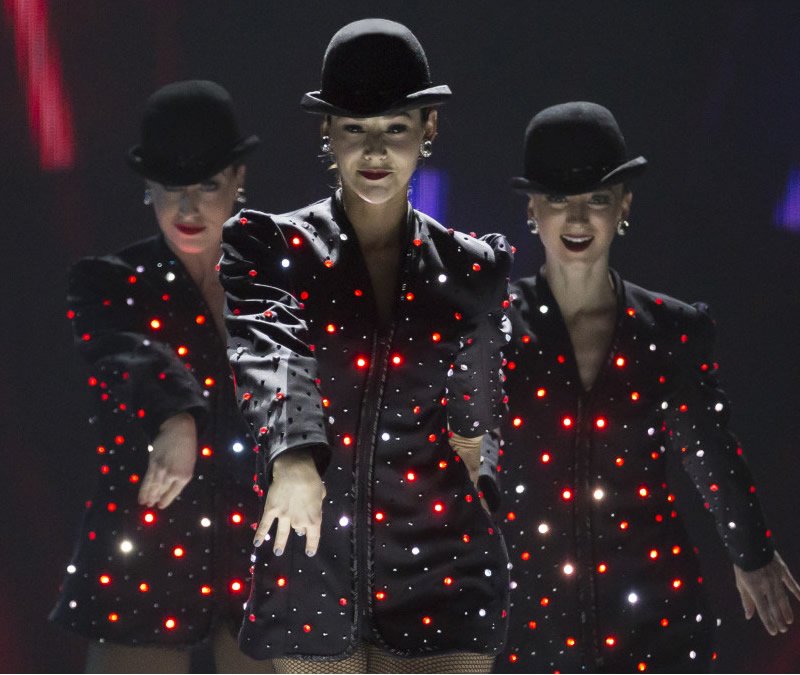 Enlighted created a set of illuminated jackets for the legendary Rockettes, in collaboration with their design team. These jackets were encrusted with black glass crystals and Enlighted smart RGB LED pixels, which were wirelessly synchronized with the music and choreography.
The costumes were featured in a scene about the future of fashion in their live theatrical production "New York Spring Spectacular", which premiered at Radio City Music Hall in New York in spring 2015. The LED jackets also appear in an revised version of the show, "New York Spectacular," in summer 2016.
Their debut performance with the LED jackets was on NBC's "America's Got Talent" in September 2013.
removable electronics using LED button studs
This project also required that the jackets could be laundered. This was achieved by designing electronics that were fully removable. The battery packs, DMX receiver, LED controller, and two strings of RGB LED pixels were built as modular units with detachable plugs. The pixels themselves were built as LED button studs that could be mounted in buttonholes in specific locations in the coat. Each pixel had a base PCB with LED and driver circuitry, a plastic lightpipe stem, and a clear crystal mounted on top. This design is based on the artist's US Patent #6474830, "Multi-purpose illumination device adaptable for use as a button fastener."
wireless dmx control
The system used a custom-designed Enlighted LED driver coupled with a wireless DMX receiver. Incoming signals were used to trigger cues, and to play pre-recorded lighting patterns from a memory card stored within each jacket. This approach only required 4 channels of DMX control per dancer, so we could control 36 independent costumes (plus a large number of spares and swings) within a single DMX universe. This minimization of bandwidth is ideal for applications where other wireless systems will be operating simultaneously.
video
The video below shows two excerpts from the New York Spring Spectacular in 2015.