Electric Nervous System
---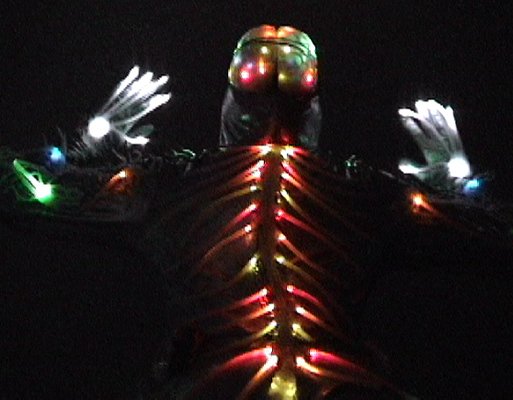 This piece of wearable performance art was originally created to be worn by Janet Hansen at Burning Man 2000, when the theme was "The Body."
The base of the costume is a hooded bodysuit made of purple metallic spandex, and it is covered with a few hundred single-color LEDs arranged in rainbow-order groupings. It includes a brain made of translucent plastic and strategically placed nerves composed of silicone tubing and household silicone sealant. It is an artistic interpretation of the physiology of the female human nervous system, in terms of the color choices and in the custom design of the animated lighting patterns.
Over the years, this costume has been used to entertain a variety of audiences. It has appeared in fashion shows, circus performances, and masquerade contests, winning Best in Show at San Diego Comic-Con in 2001. In 2002, it was also featured in a TV segment about Enlighted on Ripley's Believe It Or Not!
video
The video below shows part of one dance performance where it was used, as well as close-up views of the animation in the costume.