Kristy Sellars - AGT Finals
---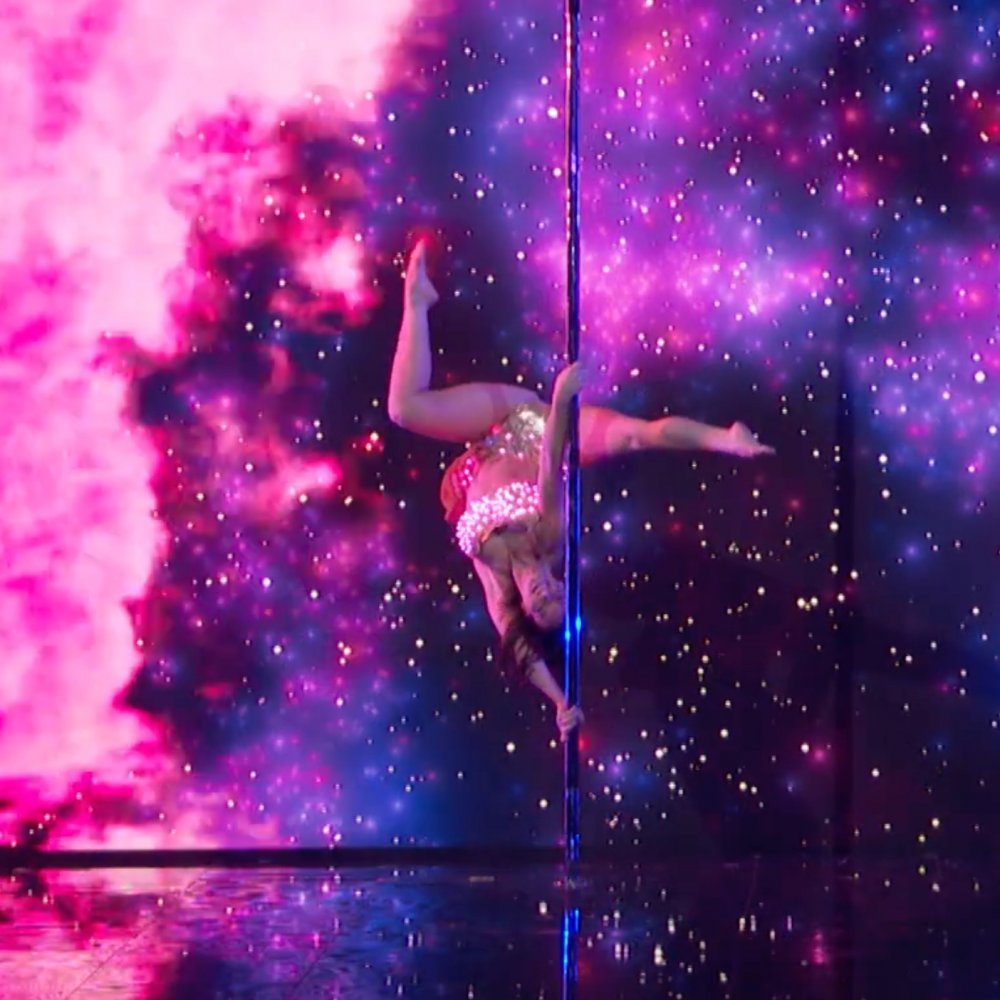 After impressing the judges and the audience in the semifinals, and getting great praise (and an apology) from Simon Cowell, Kristy Sellars advanced to the finale of America's Got Talent, as one of the top eleven acts of the 2022 season. [Update - she finished second overall!] Her art form combines creative storytelling with a video background and other lighted elements that are synchronized to her pole dancing movements.
For the first half of the performance, she is wearing a black top and ruffled skirt. She dramatically removes this layer to reveal a gold metallic two-piece outfit underneath, which is illuminated with LEDs.
As the song continues, the costume does a series of color bursts and fades paired with matching animated graphics behind her, and then goes through additional phases where the lights are off, twinkling in gold, doing a bright gold pulse, and then shrinking away until only a single light is illuminated at the center of her chest. At this point, Kristy is holding a gold LED that she pulls away from her body and offers to the viewers with an outstretched arm. (This detachable piece had been hidden inside her costume the whole time).
We were commissioned to add the lighting to her costume, using RGB LED pixels with a custom LED driver programmed with the sequence she specified. We also built a few versions of the individual LED prop, so she could decide which type worked best during rehearsals. The whole project came together very quickly and it was an ongoing challenge to make everything both durable enough and comfortable enough to work for such a demanding athletic performance. We were thrilled to see it all executed perfectly and beautifully!
Previously, we also worked with Kristy when she won Australia's Got Talent in 2019, and Miss Pole Dance Victoria in 2012.
video
Her AGT finale performance is shown in the video below.